Corporate Entity Management: A Better Approach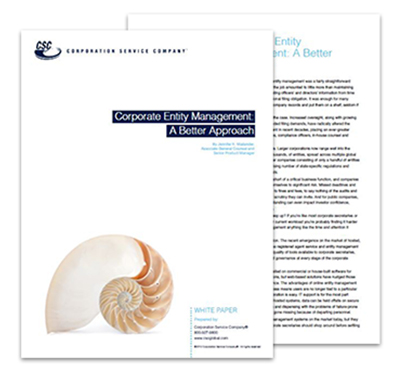 For most of us, entity management is an unwelcome burden. The increased oversight and expanded compliance requirements of recent years have only made things worse, putting ever-greater demands on the time of corporate secretaries, compliance officers and inside counsel.
CSC's new white paper, "Corporate Entity Management: A Better Approach," shines a light on today's biggest entity management challenges and shows you how the right tools can transform your corporate record-keeping, enable carefree business compliance, and yield significant savings in time, effort and anxiety.
Download it now and find out how to:
Unite your service of process records and entity data Manage any number of compliance obligations using an intuitive, online calendar Create a perpetual data trail for your entities, leading to better audit outcomes And much more!
Complete the form on the right to download your free copy today.
The right tools can transform your corporate record-keeping and enable carefree business compliance