Marketplace Best Practices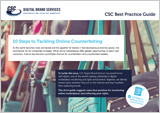 CSC® Digital Brand Services joined forces with OpSec® Security to help you identify online counterfeiting, and stop fraudsters from exploiting your brands.
We've identified 10 best practices that can help you tackle online counterfeiting—and put them all together in a Best Practice guide you can download. Just some of the tips you'll learn about:
Understanding the size of the problem
Identifying the channels to monitor
Choosing your targets
Reviewing your data regularly
Fill out the short form on the right to download the resource.
10 steps to tackling online counterfeiting