Trademark Clearinghouse
Decision Points
...the support you need
By entering your telephone number and submitting this form, you expressly authorize the Corporation Service Company (CSC) to follow up with you regarding your business needs and offer our assistance. We may use an automated telephone dialing system to contact you. You are not required to provide this consent to do business with CSC. Simply call us at 1-866-403-5272.
Download Trademark Clearinghouse Decision Points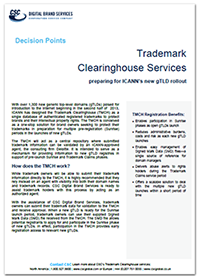 With more than 1,300 new generic top-level domains (new gTLDs) poised for introduction to the Internet beginning in the second half of 2013, ICANN has created the Trademark Clearinghouse (TMCH) as a single database of authenticated registered trademarks to protect brands and their intellectual property rights.
The TMCH is conceived as a one-stop solution for brand owners seeking to protect their trademarks in preparation for multiple pre-registration (Sunrise) periods in the launches of new gTLDs.
As a registered agent to the TMCH, CSC Digital Brand Services is ready to assist you in registering your trademarks.
Fill out the form to the right to download our TMCH Decision Points data sheet.
Get answers to these and other questions:
How does the TMCH work?
Should I use the TMCH?
Does the TMCH block infringing registrations in new gTLDs?
When will the TMCH open for registrations?
What are Trademark Claims notices?
What languages will be serviced in the TMCH?
...and more
TMCH Webinar Recording
View our webinar recording: The Truth about the Trademark Clearinghouse